Virginia in the Civil War
From Warriors of the Rebellion
Jump to navigation
Jump to search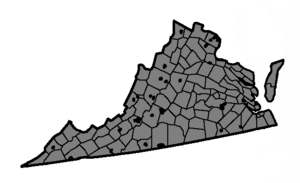 Virginia - Union and Confederate
Population and Demographics
This feature is not yet available. Check back soon for updates!
Antebellum Virginia
This feature is not yet available. Check back soon for updates!
Conflict
Units from Virginia (Union)
Units from Virginia (Confederate)
Virginia seceded from the Union on April 17, 1861. The Virginia Convention also authorized the Governor to call as many volunteers into active service as he might deem necessary to defend the Old Dominion, however this call was not executed for another three days. On April 24, Robert E. Lee was commissioned as a Major General and overall commander of the "military and naval forces of Virginia" for both the volunteer and professional armies of Virginia.
The Provisional Army of Virginia was authorized on April 27 and was was originally intended to be composed of 2 artillery regiments, 8 infantry regiments, 1 regiment of Riflemen, and 1 cavalry regiment. However, only 1 infantry battalion and 1 artillery battery were ever organized, and were eventually absorbed by the fledgling Provisional Army of the Confederate States. These forces were initially placed under the direction of Jefferson Davis until the governor formally transferred those troops into Confederate service June 6, 1861. This order was not carried out until July 1, 1861.
Several specialized types of units were organized for this army:
On August 21, 1861, the Confederate Congress passed an act authorizing the creation of Local Defense Troops, though the regulations for their organization (General Orders #86) were not issued by the Confederate States Adjutant and Inspector General's Office until June 23, 1863. These units were organized at the company or battalion level, and often consisted of government employees from various arsenals and bureaus, or detached troops from regular service on the front lines. Near the end of the war, these troops were grouped into regiments to serve in a militia-like capacity in the vicinity of their organizations.
On May 15, 1862 - The State Assembly organized the Virginia State Line, which was designed to serve under John Buchanan Floyd to retake the western counties of Virginia. The State Line was to be composed of not more than 10,000 men who were not otherwise subject to Confederate States conscription. This created conflict between Virginia and Confederate authorities, as many Virginia men joined the State Line to avoid service in Confederate States armies. The organization was disbanded in 1863 having never reached its goal, with the remaining troops transferred into Confederate State service.
The Confederate Congress also created the Reserves on February 17, 1864 when it expanded the draft to include all white males between 17 and 50 years of age. These Reserve units primarily consisted of men under 18 and over 45 and served only within the borders of the Commonwealth of Virginia.
Casualties from Virginia
This feature is not yet available. Check back soon for updates!
Notes
Sources