Battle of Antietam, Maryland
From Warriors of the Rebellion
Jump to navigation
Jump to search
The Battle of Antietam, also known as the Battle of Sharpsburg in the South, took place on September 17, 1862 near Sharpsburg, Maryland and Antietam creek in Virginia. It was the first major campaign General Robert Lee undertook to cross into Union territory. It is supposed that this was a Union victory because General McClellan's Army of the Potomac halted Lee's army and preventing him from achieving his campaign objectives. Today Antietam still stands as the bloodiest single day of American history in which 22,000[1] people were listed as killed, wounded, or missing.
The Battle of Antietam
The Battle of Antietam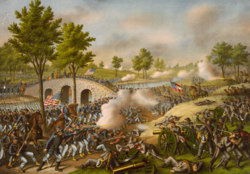 A lithograph produced by Kurz & Allison in 1888 depicting the Battle of Antietam.
Battle Information
Date:
September 17, 1862
Location:
Washington County, Maryland
Result:
Union military victory,
tactically indecisive
Union Armies (Commander):
Army of the Potomac (George B. McClellan)
Confederate Armies (Commander):
Army of Northern Virginia (Robert E. Lee)
Nation Casualties:
Union and Confederate casualty count
State Casualties:
State casualty count
Many unit profiles say September 16-17
Campaign
Union Order of Battle
Confederate Order of Battle
Battle
Statistics
Union: 2,108 killed, 9,549 wounded, 753 missing = Total 12,410
Notes
Sources